Please note we have now moved to the old Air Traffic Control Tower, RAF Linton on Ouse.
Find out more.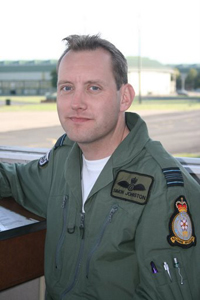 Welcome to 642 VGS
Welcome to the site of 642 Volunteer Gliding Squadron (VGS). We are based at RAF Linton-on-Ouse, near York.
642 VGS serves air cadets from the Air Training Corps and Combined Cadet Force, providing basic pilot training in the Vigilant motorglider (a modified Grob 109b). This varies from the basic Gliding Induction Courses to the more demanding Gliding Scholarship (GS) courses, in which cadets are trained to solo standard. The successful GS student will fly the aircraft completely alone and be awarded the coveted 'silver wings'. A select few cadets then receive Advanced Glider Training which, exceptionally, may be followed by an extended period of training to become instructors.
642 VGS operates four aircraft. Flying takes place at weekends, with some additional week-long courses throughout the year.
Simon Johnston
Squadron Leader

Officer Commanding 642 Volunteer Gliding Squadron
RAF Linton on Ouse